These pics OWN! Hahaha. The one of me and Jon didn't come out and I was sad. Why did my camera have to fall? Damnit! Oh well...here are some fun pics and then the concert ones will be behind the cut!



Jon on drums and Shawn on guitar covering "Rape Me" with MBR


Justin, Me, Shawn. My favorite picture. Ever. Wow. Notice the school sign in the backround. We all got a kick out of that lol.


Me and Shawn doing 'the face' haha.


This merch guys scorpion. Notice the leaf in the backround. Haha. He was cute. He was also hitting on me. Weeee


Me and Matt. Bad picture of us. Stupid Matt. SMILE! I was all leaning back funny so I look about 90234802384 lbs.


Me and Shawn. Again, I was leaning back. There was a wall he had his foot on so I was leaning back on his leg...if that makes sense. Yep.


Jon, Me, and Shawn <33333333 I LOVE this picture! I loooooooooove Jon with a passion! I should be with that boy. Haha.







Bleed The Dream


Awesome picture. I'm in love with it.


Acoustic part of their set


acoustic


acoustic


acoustic



The New Transit Direction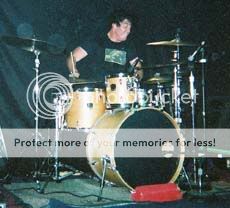 one more...


Megan, Rissa, Stacy and me =) Super fun people.

-x- Steph -x-